Model railway locomotive and rolling stock construction in gauges 4mm / 00 and 3.5mm /. HO, plus 7mm, 1/4 inch and 1/45 scale Gauge O. Work also undertaken in Gauge 1 10mm and 3/8 inch scales. Special expertise in the narrower gauges and in outside frame prototypes.


If you are in the market for some machine tools, please take a look at the For Sale page, as I am replacing my Sieg C1 lathe with a brace of Pultra instrument lathes. There are also some part completed North London Railway tank locos in 4mm scale

Anyway, back to the current stuff. For those of you who have not guessed, the picture below is of course of the Backwoods Miniatures version of the Lynton and Barnstaple 2-4-2 Lyn in OOn9 that seemed to have occupied an inordinate amount of my time these last months. Full details of the build are in the Locomotive Builds section, and the model now has its own entry in the Locomotive Gallery.




After all the hard work on the Alan Gibson Manning Wardle in 7mm scale On14, I finally got to see it run recently 'under its own steam' as it were - courtesy of a YouTube clip of the model. Here it is. Just
click on the image below ...... blow-by-blow details of the remedial work done on this model are in the Locomotive Builds section.


For some reason the L and B seems to be flavour of the month (if not the year) what with Peco releasing their OOn9 rolling stock, and Heljan - finally - getting close to delivering their 1/76 scale takes on the Manning Wardle tanks.
The 14mm 1/43 scale chassis build for the Manning Wardles is proceeding, but I'm still at the 'pre-build' stage here, as there are several jigs and fixtures to make up before I move on to cutting metal for the chassis and coupling rods proper.

Incidentally, Slaters has a kit for the Baldwin on the cards coming out in a couple of months, but I've yet to see it in the flesh to make a judgement on how easy it will be to put together.

Large scale 1/6th armour: if you are interested in owning a built model of this iconic WW2 Wermacht tank, please get in touch sooner rather than later.

For the sort of quality you can expect from me, please see the images on this site and also upon the Armortek forum of the British 25pdr gun from their Kompact Kit series that is now available for immediate delivery.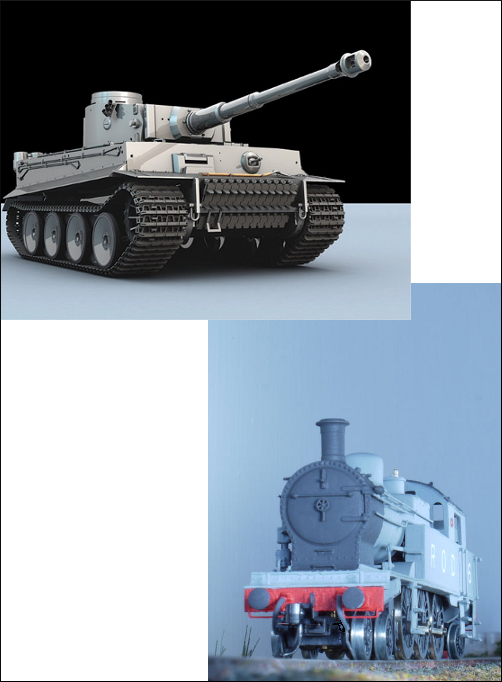 Images: DJH Model Loco 1/87 ROD 'Baltic' tank from WWI; Armortek Tiger 1 1/6 from WWII.

Looking for Ostmodell - Leipzig etched number plates, catenery and signals?