| | |
| --- | --- |
| Home | Model railway locomotive and rolling stock construction in gauges 4mm / 00 and 3.5mm /. HO, plus 7mm, 1/4 inch and 1/45 scale Gauge O. Work also undertaken in Gauge 1 10mm and 3/8 inch scales. Special expertise in the narrower gauges and in outside frame prototypes. |
---
NEWS for January 2020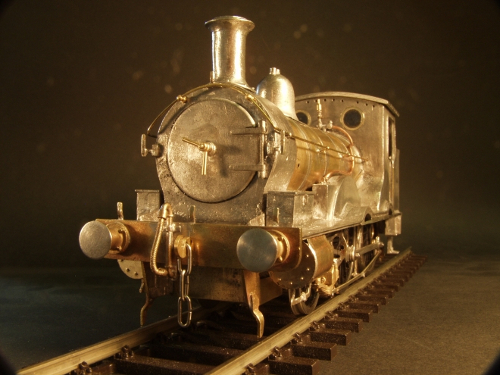 Beattie 2-4-0 well tank in 7mm

DJH ModelLoco kits

Looking through my records, I seem to have been building more than my fair share of this supplier's kits recently. If you have one of these models still sitting unbuilt in its box, why not get in touch for an estimate?

Enhancements you will get as standard, include self-contained loco pick-ups on tender locomotives, torque-arm gearbox mounting, tapped brass insterts fitted to loco and tender superstructure for mounting screws, and all-soldered construction for major structural chassis and body components.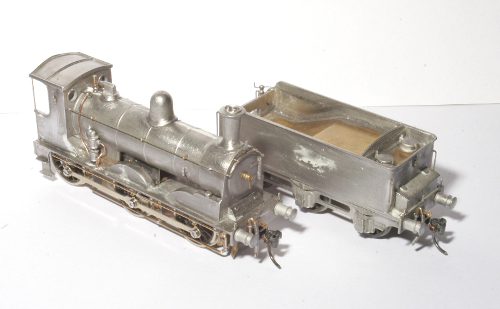 Caledonian Drummond 'Jumbo' 0-6-0 from DJH ModelLoco kit K11 in 4mm

WW1 ROD Depressed centre Flat Wagons

Just to show that I do do 'production'. Though after spending three afternoons in a row having to make 16 identical screw-down jacks in 1/87 scale - 2 each for 8 ends - I must say that the experience has left me just a tad jaded.... There's more pictures of these and the matching ROD Fourgons and Couverts on the Locomotive Gallery pages.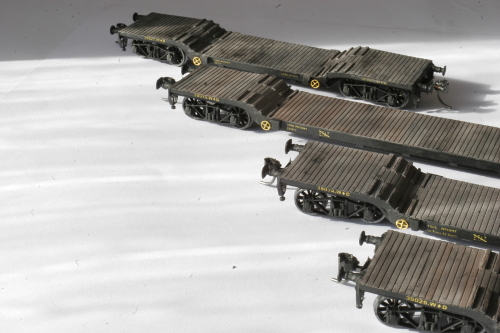 The lettering and numbers on these have come out particularly well
....don't you think?

Karl Gőlsdorf. Again.

I'm hoping to get back to Vienna sometime soon, and will try to pop in to Strasshof to renew my acquantance with 310.32. Here she is in 2017, alongside running mate No. 30 33 one of the ex-Stadtbahn 2-6-2 Gőlsdorf tanks, again a compound, but interestingly fitted with a driver operated (I hope my German was good enough for me to get this correct....) simpleing valve,to allow the low pressure cylinder to operate at full boiler pressure at will, giving this engine the same power as a three-cylinder machine.

Note that in the 'normal' Gőlsdorf system, the valve porting is arranged so that there are two small 'starting' ports in the low pressure steamchest, that are in communication with the receiver pipe between high pressure cylinder (or cylinders...) exhaust port, and the low pressure valve chest. Which, due to the phasing of the cranks when the engine has stopped with the high pressure cylinder piston at end or beginning of its stroke, will be 'leaking' full boiler pressure into the receiver through the valve on that side.

Once the engine is on the move, and the driver links up the valve gear, the low pressure starting port is no longer uncovered by the slide valve, and the engine automatically goes over to running as a compound. The starting ports are small relative to the overall size of the slide valve on the LP side, so the pressure of the 'once used' steam in the HP side, is enough to effectively keep the valve seated against the port face. Elegantly simple.

It is truly remarkable that 125 years after it was built, there are still people committed enough to maintain machines like the 30 33 in operating condition, and to give posterity a glimpse of what it must have been like to commute into the centre of Vienna during the reign of Franz Josef.

The railway museum Das Heitzhaus is at Strasshof an der Nordbahn, about 45 minutes north of Vienna. Don't get off at Strasshof - the museum is actually at the next station down the line, at Silberwald.(....How do I know, you ask?)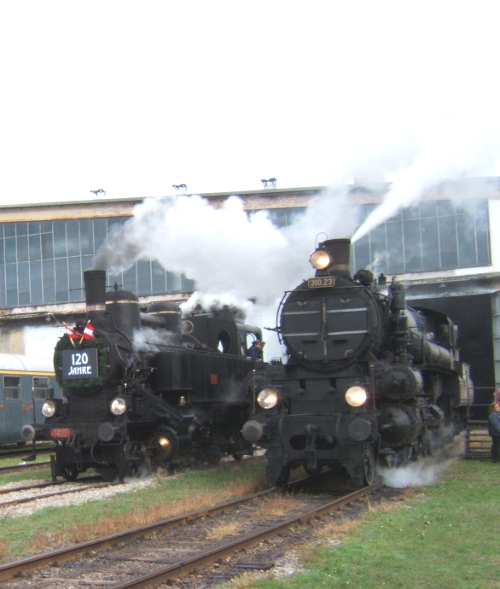 Gőlsdorf 2-6-4 4-cylinder compound 310.32 (right) and his ex-Vienna Stadtbahn 2-cylinder compound 2-6-2 tank design, No. 30 33, together in steam at Strasshof in October 2017.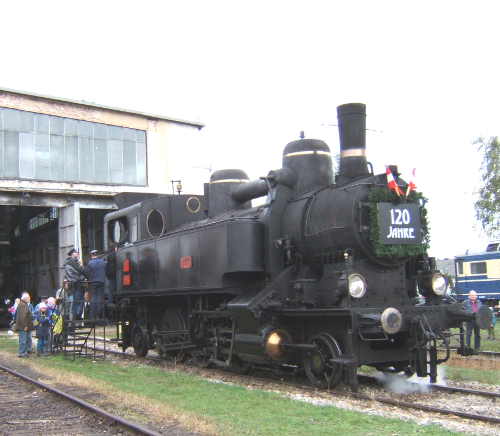 30 33 again, apparently none the worse for wear the morning after her 120th birthday party the night before. Vienna's role as one of the founders of the Jugendstil movement - better known to us as Art Nouveau is paid homage to in the form of the font used upon the placard on the engine's smokebox.

For what it is worth, I came away with a yen to build my own Gőlsdorf engine in miniature, but it will probably never happen....life's getting too short at 63, and besides, I'm so far behind as it is with my delivery schedules. However...I did idly run a rule over the prototype drawings of Südbahn 109.13 a simple-expansion 4-6-0 designed to dramatically cut the scheduled times taken by trains running over the Semmering from Vienna to Trieste, which is also at Strasshof - and in operating condition too to boot. I reckon that something passable could be botched up in 7mm scale, using LBSC's 'Bat' Schools class 4-4-0 design running gear with an extra set of drivers...the only problem is this little voice in the back of my head saying, "Get thee behind me, Satan....".

Past Sins Revisited

Not something actually 'new' but worth sharing I thought. A couple of the small run of Vale of Rheidol 2-6-2 tank engines that I built back in the late 1990s surfaced at the 'Small and Delightful show at Shepton Mallet some years back. They still seem to run OK, and both their owners are still happy bunnies. Obviously I must have been doing something right, even back then. More pictures are on the Locomotive Gallery pages.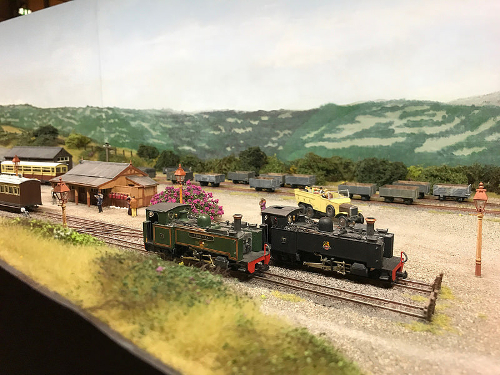 Backwoods VoR 2-6-2s Nos 8 and 9 at Devils Bridge on the layout of Rachel & Eddie Fields'. Picture copyright Steve Mann, taken at the Warely National Model Railway Exhibition in November 2016.

On14 Chassis' for 'Yeo', 'Exe', 'Taw' and 'Lew'

Progress has been very slow on the Manning Wardle Lynton and Barnstaple chassis, but I will try to put some pictures up shortly. Frames are cut, I've figured out how to fit the motor and the job IS moving forward. These things are a bit like a jigsaw – and you can't start putting it all together until you have made all the bits of the jigsaw. I could of course do what everyone else does and just drill all the 'oles, solder the cranks on for keeps, then 'run it in' at 14.5 volts until the binding disappears, then put some masking tape around the motor and give the complete chassis a rattle-can coat of matt black....

Backwoods Lyn

Anyway, back to the current stuff.For those of you who have not guessed, the picture below is of course of the Backwoods Miniatures version of the Lynton and Barnstaple 2-4-2 Lyn in OOn9 that seemed to have occupied an inordinate amount of my time these last months. Full details of the build are in the Locomotive Builds section, and the model now has its own entry in the Locomotive Gallery.

Incidentally, this model has made issue 110 of the Narrow Gauge & Industrial Railway Modelling Review.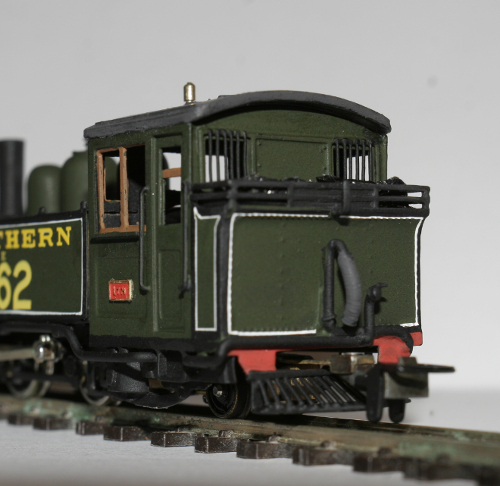 Backwoods Miniatures 'Lyn' in OOn9

Gibson L & B 2-6-2 Valve Gear

After all the hard work on the Alan Gibson Manning Wardle in 7mm scale On14, I finally got to see it run recently 'under its own steam' as it were - courtesy of a YouTube clip of the model. Here it is. Just click on the image below ...... blow-by-blow details of the remedial work done on this model are in the Locomotive Builds section.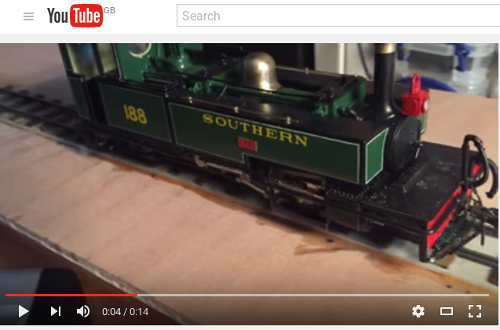 Looking for Ostmodell - Leipzig etched number plates, catenery and signals?