| | |
| --- | --- |
| Contact | Model railway locomotive and rolling stock construction in gauges 4mm / 00 and 3.5mm /. HO, plus 7mm, 1/4 inch and 1/45 scale Gauge O. Work also undertaken in Gauge 1 10mm and 3/8 inch scales. Special expertise in the narrower gauges and in outside frame prototypes. |
---

Modell Ost is the trading name of Francis Samish. The majority of my work has centred around the building of UK prototype locomotives and rolling stock. But I have a long-standing yen someday to re-create in miniature - for myself at least - several of the classic turn-of-the-century steam locomotive designs that once hauled the crack expresses from Vienna to Prague in what was once Bohemia, and down to Trieste and Pola (now Pula) upon the Adriatic, in the last years of the old Austro-Hungarian monarchy. Which in a round-about way, may help explain the 'Ost' of the title.




Austrian Südbahn 109 class superheated wide-firebox 4-6-0 of 1910. (This is in fact one of the Hungarian-built examples) Almost contemporary with the GWR Saint and Star classes, though both of the latter had larger driving wheels.....There again, instead of Brunel's 'Billiard Table' the '109er' had to haul its trains over the 2,936 foot high Semmering (albeit with banking assistance from Gloggnitz...)

For the moment however, methinks all these will have to take second-fiddle to a Beattie well tank, a 1366, and perhaps a model of the Hunslet 'Eva' class 0-4-2 for the Howrah Amta Railway.....


---

Now, if you have read this far, explored my website, and feel that I have the level of skills that can do your favourite locomotive justice, then as a first stage please email, telephone or even write to me for an estimate.

The more information you can provide about your chosen prototype the better. I do have reasonable coverage as regards the Southern Railway and LSWR, plus some of the more esoteric products of UK private locomotive builders, but photos of your particular prototype at the time period you wish it modelled, are always useful.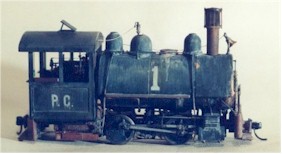 Grandt Line 18 ton Porter BS - On30. Model dates from the late 1980s.



Do bear in mind that just because a scale drawing is available, it may not necessarily be correct. The same goes with kits, especially those whose designer has used such a scale drawing. If I know where the problem lies beforehand, one can make or modify a kit's components, but I don't profess to be an expert on every steam locomotive that ever was built.

Besides, when dealing with the really early stuff - LIverpool and Manchester 'Planet', London and Birmingham 'Norris' engines, or an Engerth 0-6-4 - liveries, footplate controls and between the frames details all start to become a matter of conjecture or interpretation from what little information has survived.


---

You can telephone me weekdays from 10:00 to 18:30, GB time, and on Saturdays from 10.00 in the morning through to 12:30, upon -

+44 (0)1308 897 911

Modell Ost's email is -

info@modellost.co.uk

My postal address is -

Modell Ost
Midfield, Swyre Road
West Bexington
Dorchester
Dorset DT2 9DD
UK