| | |
| --- | --- |
| Home | Model railway locomotive and rolling stock construction in gauges 4mm / 00 and 3.5mm /. HO, plus 7mm, 1/4 inch and 1/45 scale Gauge O. Work also undertaken in Gauge 1 10mm and 3/8 inch scales. Special expertise in the narrower gauges and in outside frame prototypes. |
---
NEWS for November 2021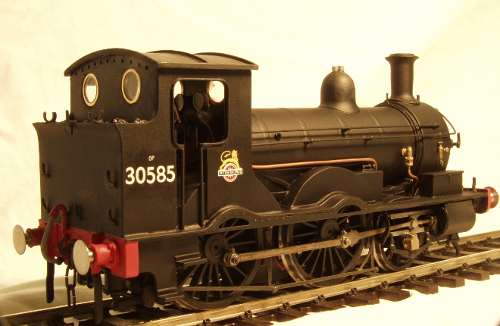 Beattie 2-4-0 well tank in 7mm
Chapelon 240P build in HO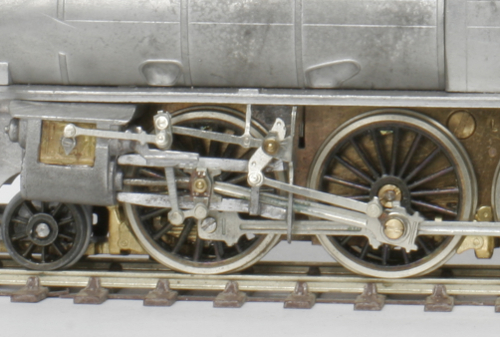 Lenz poppet valve gear in HO scale

It's not quite as fine as it should be, but I think it all looks the part. Even the slightly over-scale slidebars, which are steel rather than the kit's nickle-silver etchings, which I felt were a tad too delicate-looking for a 'running' model as opposed to a glass case showpiece. The Walschaerts gear on these engines actuated not piston valves but vertically arranged Lenz poppet valves. The same layout was used quite widely in Austria. Indeed, even being applied to three Uh class superheated 0-6-2s built in 1931 by Floritsdorf, and which were probably the only 760mm gauge locos so fitted. Five earlier locomotives of the same erstwhile class built by Krauss at Linz several years previously however, had the shaft-drive Caprotti gear.... There's a bit of trivia for you! More on this build in the Montagehalle.

Lynton and Barnstaple 2-6-2 chassis build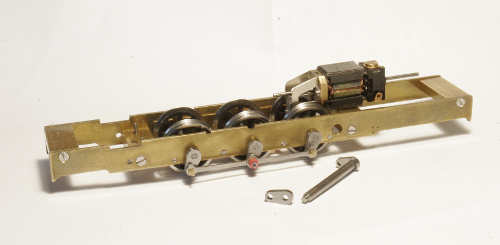 On14 Manning Wardle 2-6-2

This one has been something of a long term project, but recently has taken a 'great leap forward' (with apologies to Chairman Mao....). The frames are my preferred 'thick' 1.5mm brass on this, with machined brass bar spacers, everything being screwed together with M2 countersunk screws. A bit 'old skool', but I reckon it will still be running after the Lionheart die-cast zinc cranks and rods on theirs have long given up the ghost.... More details in the Montagehalle.

DJH ModelLoco kits

Looking through my records, I seem to have been building more than my fair share of this supplier's kits recently. If you have one of these models still sitting unbuilt in its box, why not get in touch for an estimate?

Enhancements you will get as standard, include self-contained loco pick-ups on tender locomotives, torque-arm gearbox mounting, tapped brass insterts fitted to loco and tender superstructure for mounting screws, and all-soldered construction for major structural chassis and body components.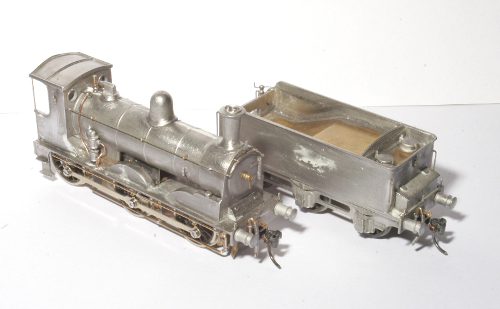 Caledonian Drummond 'Jumbo' 0-6-0 from DJH ModelLoco kit K11 in 4mm

WW1 'Brigadelok' - RTR for 1/43.5 Oe scale

Models of the iconic WW1 0-8-0 'Brigadelok', based upon the Locos n Stuff etched brass and lost wax casting kit. Three kits in stock, availability in 8 - 14 months. More details and full specification on the For Sale page.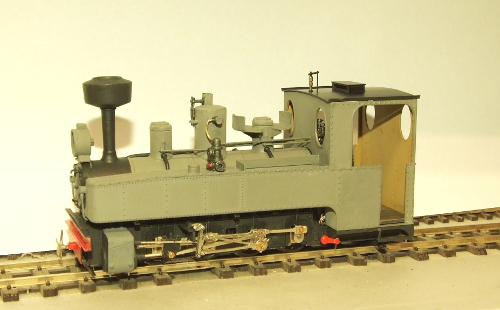 Photo courtesy of Mark Clark/Locos n Stuff

Karl Gőlsdorf. Again.

I'm hoping to get back to Vienna sometime soon, and will try to pop in to Strasshof to renew my acquantance with 310.32. Here she is in 2017, alongside running mate No. 30 33 one of the ex-Stadtbahn 2-6-2 Gőlsdorf tanks, again a compound, but interestingly fitted with a driver operated (I hope my German was good enough for me to get this correct....) simpleing valve,to allow the low pressure cylinder to operate at full boiler pressure at will, giving this engine the same power as a three-cylinder machine.

Note that in the 'normal' Gőlsdorf system, the valve porting is arranged so that there are two small 'starting' ports in the low pressure steamchest, that are in communication with the receiver pipe between high pressure cylinder (or cylinders...) exhaust port, and the low pressure valve chest. Which, due to the phasing of the cranks when the engine has stopped with the high pressure cylinder piston at end or beginning of its stroke, will be 'leaking' full boiler pressure into the receiver through the valve on that side.

Once the engine is on the move, and the driver links up the valve gear, the low pressure starting port is no longer uncovered by the slide valve, and the engine automatically goes over to running as a compound. The starting ports are small relative to the overall size of the slide valve on the LP side, so the pressure of the 'once used' steam in the HP side, is enough to effectively keep the valve seated against the port face. Elegantly simple.

It is truly remarkable that 125 years after it was built, there are still people committed enough to maintain machines like the 30 33 in operating condition, and to give posterity a glimpse of what it must have been like to commute into the centre of Vienna during the reign of Franz Josef.

The railway museum Das Heitzhaus is at Strasshof an der Nordbahn, about 45 minutes north of Vienna. Don't get off at Strasshof - the museum is actually at the next station down the line, at Silberwald.(....How do I know, you ask?)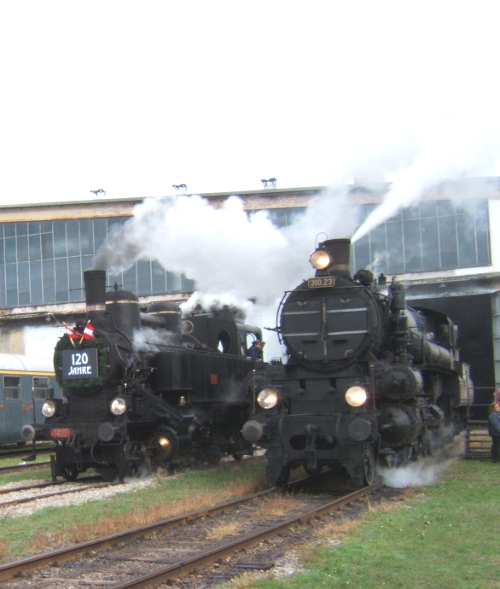 Gőlsdorf 2-6-4 4-cylinder compound 310.32 (right) and his ex-Vienna Stadtbahn 2-cylinder compound 2-6-2 tank design, No. 30 33, together in steam at Strasshof in October 2017.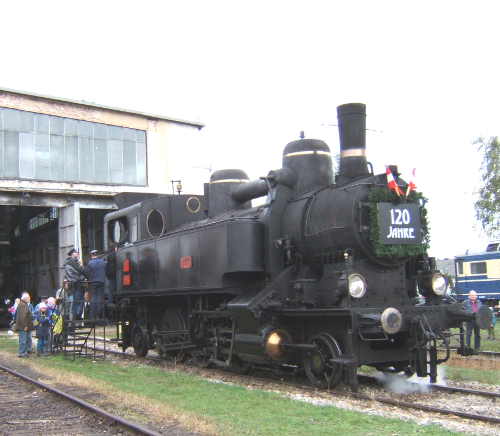 30 33 again, apparently none the worse for wear the morning after her 120th birthday party the night before. Vienna's role as one of the founders of the Jugendstil movement - better known to us as Art Nouveau - is paid homage to in the form of the font used upon the placard on the engine's smokebox.

Past Sins Revisited

Not something actually 'new' but worth sharing I thought. A couple of the small run of Vale of Rheidol 2-6-2 tank engines that I built back in the late 1990s surfaced at the 'Small and Delightful show at Shepton Mallet some years back. They still seem to run OK, and both their owners are still happy bunnies. Obviously I must have been doing something right, even back then. More pictures are on the Locomotive Gallery pages.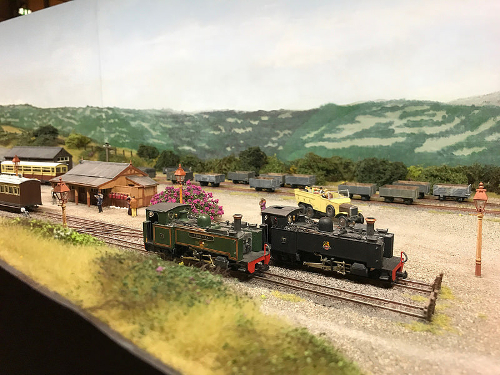 Backwoods VoR 2-6-2s Nos 8 and 9 at Devils Bridge on the layout of Rachel & Eddie Fields'. Picture copyright Steve Mann, taken at the Warely National Model Railway Exhibition in November 2016.



Looking for Ostmodell - Leipzig etched number plates, catenery and signals?