Locomotive
Gallery -
Page 1
Model railway locomotive and rolling stock construction in gauges 4mm / 00 and 3.5mm /. HO, plus 7mm, 1/4 inch and 1/45 scale Gauge O. Work also undertaken in Gauge 1 10mm and 3/8 inch scales. Special expertise in the narrower gauges and in outside frame prototypes.


---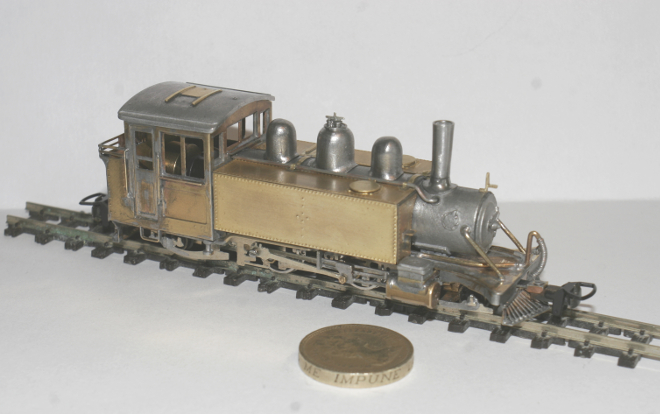 Lynton and Barnstaple Rly. 'Lyn' 2-4-2 (scale 1/76), 9mm/OO9 gauge. Built from no longer available Backwoods Miniatures kit. Model featured in Narrow Gauge and Industrial Railway Modelling Review magazine.

Introduction

These pages carry a selection of recent (and not so recent...) models, showing the typical level of detail and quality of workmanship that customers can expect from me. Please note that all of my recent production - barring the repaints or re-detailing of commercial models - have serial numbers securely affixed or stamped into their chassis'.

Do remember that many of the detail images of the models showcased here are presented two or even three times life-size. These are in the main 'working locomotives' intended to be operated on 'real' model railways, with all the inherent track imperfections that this implies, and to take the odd derailment or sideways knock without losing a lamp iron....

Much of the additional detail they carry, not to mention the engineering that goes into each chassis, means that despite many of these locomotives having kit origins, each has a scratch-built content of anything from 15 to 35 per cent.


Another DJH kit, one of the Drummond maid-of-all-work 0-6-0s that pre-dated the McIntosh era on the Caledonian Railway. It has been finished as in service with the WW1 Railway Operating Division in France, and still proudly wears its Cologne, Germany shed plates on the cabside. Touches which lift this model just a tad out of the run-of-the-mill, are the brake gear, plus the characteristic additional piping along the RH footplating of loco and tender for the Westinghouse brake.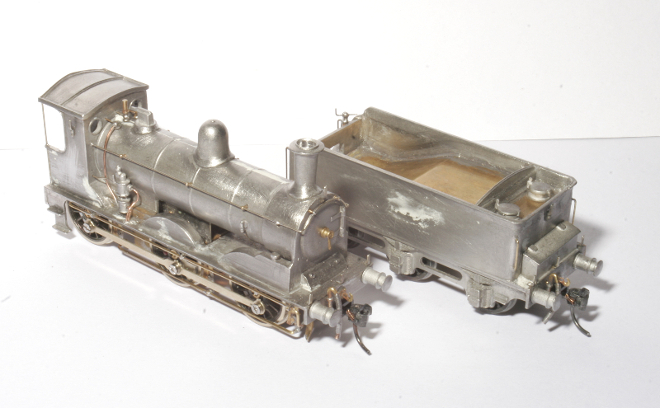 Ready for the paint shop, with all the joints, blowholes and gaps filled and sanded down. It is often thought that whitemetal kits must be easier to build because there is no need to 'form' major assemblies as with an etched brass kit that comes 'flat-packed'. However, the casting process is never 100 per cent, and it is common - especially with older kits dating back to the 1990s and earlier - to find boiler halves that are different lengths, tender sides that are not quite mirror images of each other, etc. All of which have to be dealt with before an acceptable model can be produced.
Backwoods Miniatures 'Lyn' in 009 - 4mm/ft scale on 9mm gauge track. I'm waiting to see how these pictures stack up with those of the RTR Heljan model that's been promised as the follow-on from the same manufacturer's Manning Wardle 2-6-2 tanks in the same scale. Meanwhile, here's the left hand side with pipework for the steam heating. From the scale drawings that I have seen, the pipework at the rear 'crossed-over' the vacuum cconnection, making things a bit tricky to accommodate in this small size without everything looking clumsy.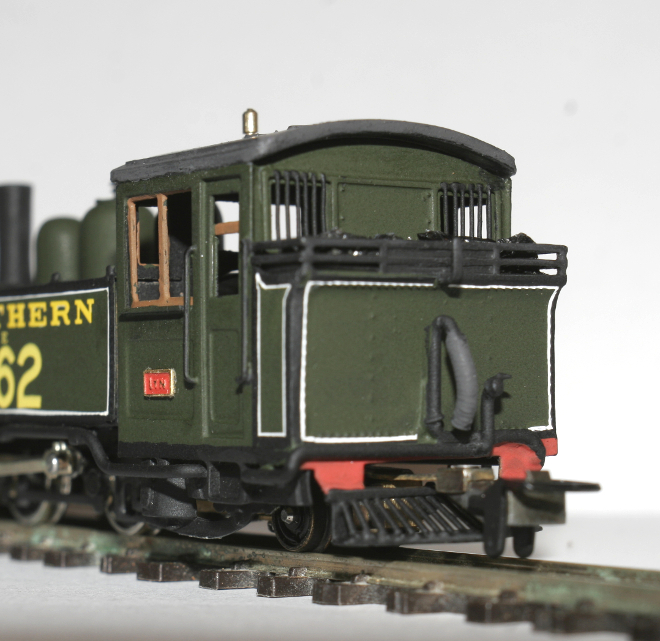 Bunker view, showing how the lining has been carried around the edges of the platework. The bars on the rear windows have come out particularly fine on this model....even if I do say so myself!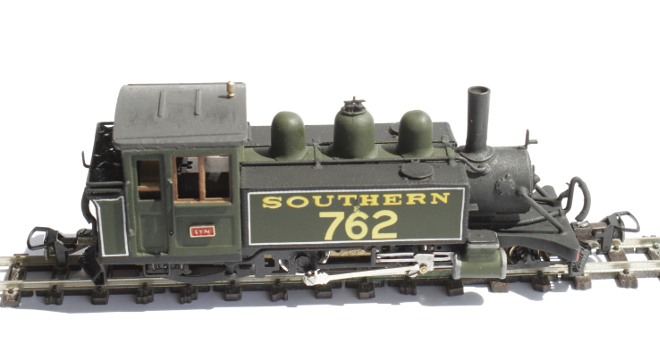 The typical 'Modellers eye view' from overhead, but it does show how the blower pipe has been set in nice and snug - and with the requisite pipe-clips across the stays along the inside edge of the RH tank side.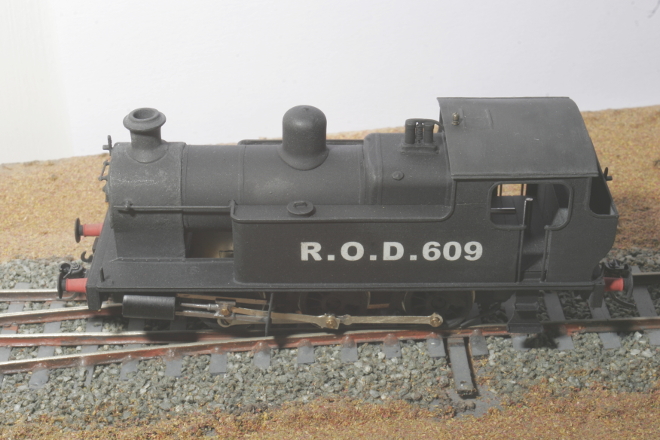 Kerr Stuart 'Victory' WW1 dock shunter 0-6-0 (scale 1/76), 16.5mm OO gauge. Question - ask yourself whether this is just lightly weathered RTR, or a kit build? Actually the latter, from the Agenoria/CSP Model Marketing range. An industrial side tank of robust and straightforward design, which saw service after the war with industrial users as well as the GWR.


Tank engines can often be more difficult to build than tender locomotives, because on an electrically driven model in the smaller scales, the boiler needs to be cut away to clear the motor. So there is no firebox 'bottom' to give an easy datum point to set everything up truly square from in both horizontal and vertical planes before soldering everything in.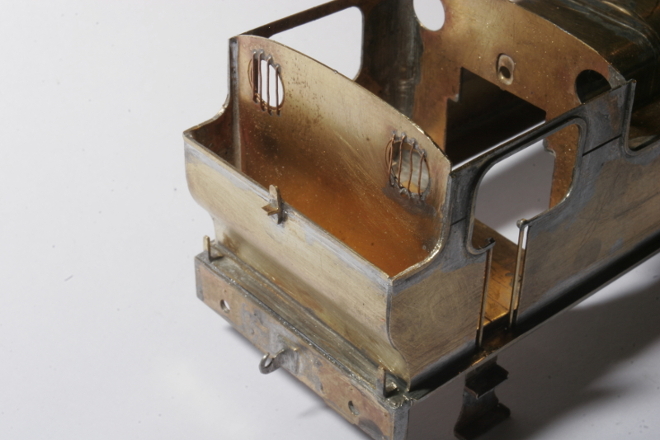 Kerr Stuart bunker being assembled and detailed during assembly. This model is all solder construction - bar the affixing of the whitemetal fittings - and this shot shows what's involved in soldering on some of the 'twiddly bits'. For those who are wondering about these things, the lamp irons below the curve of the bunker went on first - THEN the bunker rear proper.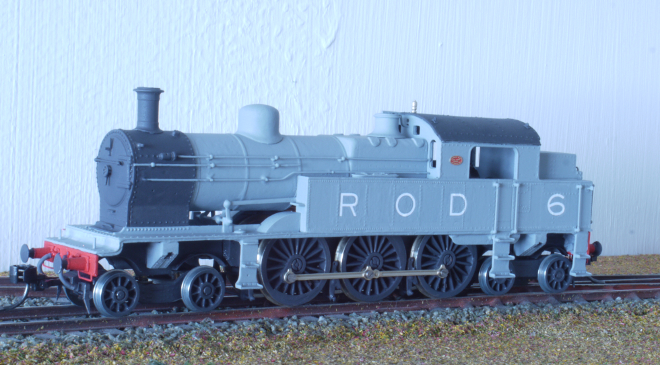 Nederlands Spoorweg - Beyer-Peacock (scale 1/87), 16.5mm HO gauge. From DJH Model Loco, but completed and detailed as ROD 6 running during WW1. Both bogies sprung, and set to collect current from one side of thanks to Markits one side 'live' spoked RP25 wheelsets. Rear bogie pivot is insulated from mainframe and body. Build story appeared in Continental Modeller magazine.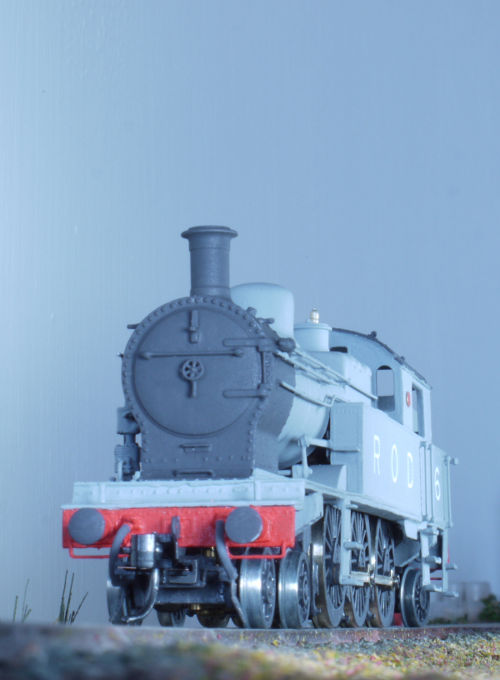 Note how all the pipework and handrails have been set to run level alongside the boiler. Twin air hoses are lost wax brass castings, and needed to be splayed so as to allow room for Kadee coupling to swing on curves.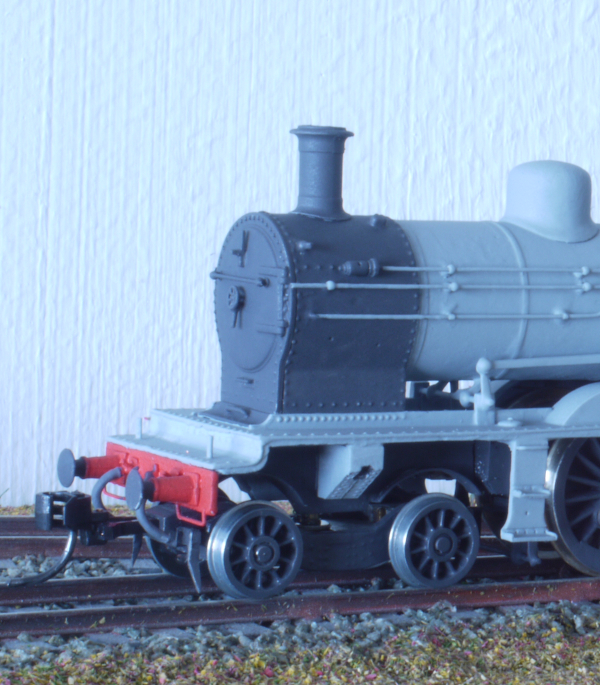 Smokebox detail. Daylight between bogie wheels and underframe is less than it looks - remember, this image is probably between 2 x and 3 x the size of the actual model!
---