| | |
| --- | --- |
| Workshop | Model railway locomotive and rolling stock construction in gauges 4mm / 00 and 3.5mm /. HO, plus 7mm, 1/4 inch and 1/45 scale Gauge O. Work also undertaken in Gauge 1 10mm and 3/8 inch scales. Special expertise in the narrower gauges and in outside frame prototypes. |
---

Over the last ten years, I have come to realise how much easier making model locomotives can be if you have the right tools for the job.

After a brief flirtation with two or three Chinese made lathes and drills that - shall we say - I felt were aimed at the less-discerning 'hobby' end of the market, I began to invest in industrial-quality machinery.

Though the latter may appear to take the same size of work, the essential difference between them and the 'hobby' class machines, is a greater mass of metal, larger bearings and support surfaces for all moving parts, a corresponding increase in rigidity, which taken together yield a higher level of precision which is repeatable (my italics).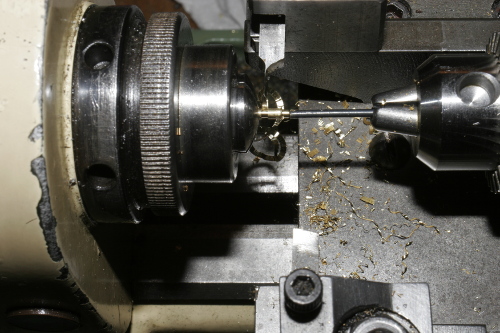 Pultra 1750 collet lathe being used to make the shouldered brass studs I use for OO/HO locomotive phosphor-bronze pick-ups.

The ability to take deeper cuts, achieve a finer finish whilst removing more metal is part of the story, but for my particular needs it is that using such tools gives me the confidence to rely upon the graduations of the machine's compound or cross slide dials when producing multiple components to identical dimensions.

Pultra 1750 - 50mm x 170mm precision plain lathe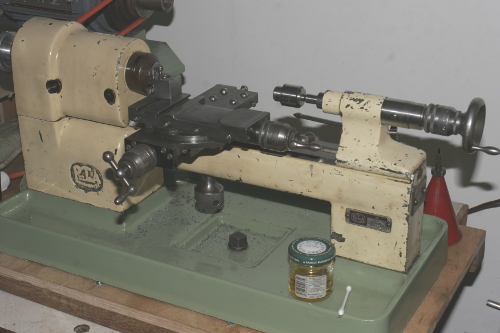 'Production' grade 10mm through-bore spindle collet lathe that is one step up from the more usual 8mm watchmakers lathes. Use of collets ensures accurate re-chucking of small components. Not perhaps in the same league as the slightly larger Schaublin 70 or Lorch LAS, but still very a very capable piece of kit. On paper, it will swing 100mm over the bed, so I should be OK (methinks...) for turning 1-1/2 inch diameter or thereabouts wheels in 1/22.5mm scale (G Scale) for an 2'6" gauge Indian narrow gauge live steam locomotive.

Note the way that the cross and compound slides are fully supported all the way along their length, and - though not visible in the pictures - that the gib strips are 'pinned' to their slides to prevent them riding up on the gib screws points and increasing friction. (Later Pultra slides are fitted with taber gibs, and being a bit of a magpie as far as machine tools goes, I now have two other slides put by awaiting refurbishment and the fitting of ball thrust bearings, and larger diameter micrometer dials, in an attempt at creating a 'poor man's Schaublin' out of the little thing...

Employed for jobs such as stepped axles for outside cranks, small bushings (e.g. a 1.50mm bore motor worm shaft reducing sleeve with 2mm outside dia. and a 0.25mm wall thickness...), manufacture of one-off screws in the M1.0 to M1.4 range with shoulders for valve gear work, production of frame spacers to identical widths, etc.

Boxford BUD - 5 x 16 inch screwcutting lathe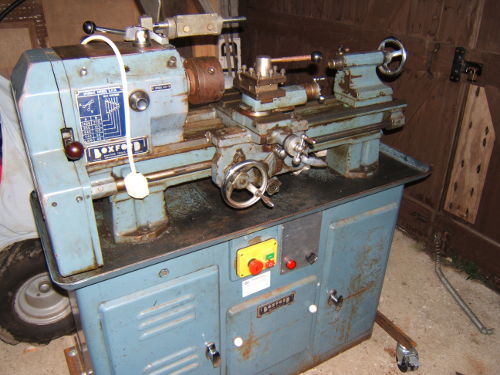 Purchased at a time when I still had aspirations of building a ride-behind (or even sit-in...) live steam locomotive, the Boxford is perhaps the most developed 'clone' of the American inter-war South Bend 9 inch swing lathe. Much more heavily built than the Myfords more usually encountered in the amateur's workshop, with adjustable twin taper-roller bearing headstock, and 'double Vee' bed where tailstock and carriage run on a separate set of ways so that any wear in one does not compromise the other's alignment with the spindle.

Having said that, it is mostly now used for roughing out, and to assist in making fixtures and jigs for the other machines I have. (It has also come in handy to put a couple of grease nipples into the pivot pins on the small tractor's loader, but that's another story...). Note the castors - these make it so much easier to move things about for when you drop something down the back of the machine.

Smart & Brown Model L - 4 x 13 inch precision plain lathe



S&B catalogue image of the Model L showing cross and compound slide.

Currently being set up to handle components that are too big or too laborious to manufacture on the Pultra 1750. A bit of an indulgance, as I already had the Boxford when I bought it, but it is nice to own what was once the 'Rolls-Royce' of English 'second operation' lathes. No screwcutting or power feeds, but where it does score is rigidity (again)) and the compound slide travel of around 112mm is more than enough for the sort of work that I will now be doing. Everything about it says 'quality', right down to the sprung plunger that cushions the flip-over belt cover when you open it.

This particular lathe has an interesting history, in that it came from the Epping Forest Horology Centre, and was one of a battery of similar machines they had - mine still has the number '6' stencilled on the tailstock. Unfortunately, I didn't realise when it came that the inverter drive it was fitted with needed to be plugged in to the mains every two or three months, so as to keep the capacitors inside from drying out. So whilst all the 'bits' are now here to rewire it (plus a small collection of tooling and spares - the machine tool Magpie again), it still requires all putting together and awaits the inevitable accompanying round tuit.... Hence the S&B catalogue pages images.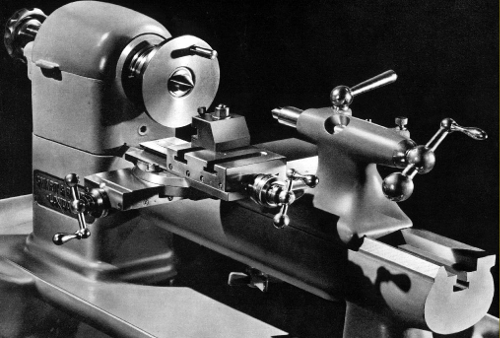 View towards headstock of the Model L. Catch plate and centre is for between centres turning with dog on workpiece.

Over time, the plan is to set the 'L' up for 'small work', using 80mm diameter chucks and similar sized tooling. I am also exploring the use of ER series collets to replace the now obsolete and difficult to find S&B proprietory Crawford and Hardinge ones that this particular machine was designed around.

Proxxon TBH – 1,080 – 6,040 rpm high speed bench drill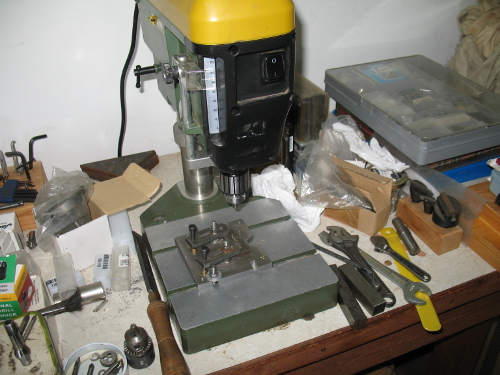 For precision drilling of items such as locomotive side frames, coupling and connecting rods and also valve gear parts. The sensitivity of the spindle feed on this machine makes it possible to drill holes under 1.0mm in diameter with a much reduced incidence of breakage of the fine twist drills required. Used with a chassis template fixture, it can quickly produce multiple sets of frames and coupling rods, each to identical centre dimensions, which are then given their final shape in the bench vice using files and filing buttons.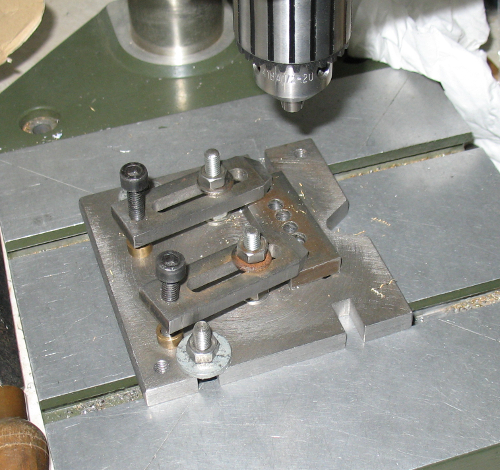 Close up of the 'shop-made' finger plate used when drilling small components. I decided to make one of these after some 'interesting' experiences with drills catching in workpieces when just holding a vice down by hand onto the table...'Nuff said!'.

Other Machine Tools

Drummond Hand Shaper - An infrequently used tool that being hand-operated, perhaps does not merit the prefix 'machine' in the 'tool' bit. I have found it ideal – although perhaps an overkill – for producing true flat surfaces and stepped profiles on bar material, for when the exact scale size or section of sheet or strip is not commercially available, or where use of a hand file would either be inconvenient or not give the required degree of accuracy. At the moment it is usable 'as-is', but I think I need to do something about the clapper box adjustment vertical slide leadscrew which is distinctly 'wobbly' in the feed nut, and the machine vice which came with it has definitely seen better days (not to mention attention from a blobby brazer....)

Sieg X0 Mill/Drill - Purchased this in desperation after problems with breaking small drills on the Proxxon, which were subsequently traced - and of course after I bought the Sieg - to a precision keyless chuck that no longer was as precise as it once was. It came complete with an X-Y milling table, so I think it will eventually become a dedicated mill rather than a drill, using ER11 collets for toolholding. Interestingly, the X0 has a lot of similarities with the American-made Servo precision high speed drill, right down to fine quill depth setting by worm and wheel - though the Servo comes with a long travel mechanical movement DTI, whilst the X0 makes do with a cheaper plastic DRO.

Actually, I had one of these before, which was also sold because it wouldn't drill straight, and only when it was being dismantled and checked prior to packing up for despatch, did I find out the column was skew thanks to some swarf having found its way between the hold-down nut and the machined locating base.... To add insult to injury, this 'new' one I now have arrived with all its electronics control gear smashed, so I'm in the process of converting to 'old skool' single speed drive with a 6000 rpm sewing machine motor to give me the torque I need to drill up to 4mm diameter in steel. Another workshop round tuit.



.